Data Quality
Reading time
Reliable Customer Data in E-Commerce with Autocompletion

Capture addresses quickly and easily

Correct addresses as soon as they are entered: Uniserv autocompletion represents the simplest and most reliable way for your customers to correctly enter their address in your web shop or online form. Your customers check whether the address they have entered is correct on entering it. This makes sure that clean data is entered into your systems at the point of entry – i.e. first time right. Information which is already verified at the point of entry avoids costly complications of the customer journey from registration via order completion to delivery and beyond.
As soon as your customer starts entering their address while registering themselves, a drop-down menu opens immediately for automatic completion of the address. Your customer can select from these and complete the entry they have started automatically and without making any errors either by touch, with the mouse or over the keyboard. For each additional character entered the search is automatically refined. Even if your customer enters the wrong information first, the correct address always ends up in your systems.
How smart address entry works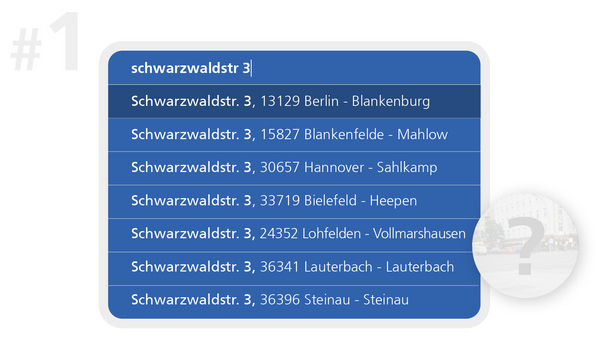 As soon as your customer starts entering their address, a drop-down menu opens immediately for automatic completion of the address. Your customer can select their address from this and automatically complete their entry without making any errors.
The search is refined automatically for each additional character entered for the street or additional location information. The result is shown clearly.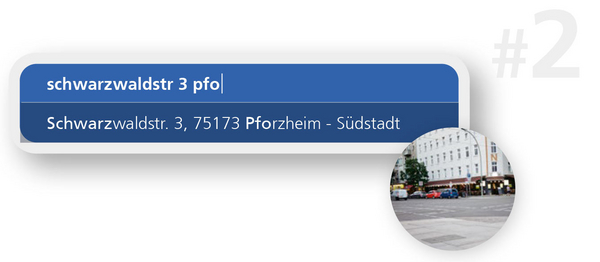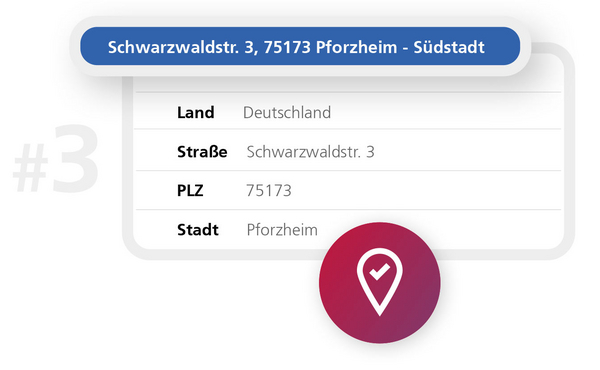 Single-line entry: When the correct address is found, the corresponding data fields are inserted correctly and automatically into the respective mask fields.
Increase your conversion rate

To ensure a positive customer journey, the registration and ordering process also need to be made as simple as possible for the customer. In e-commerce, more than half of the transactions are now carried out on smartphones. This harbours frustration potential for many customers: the touchscreen and small screen on a smartphone make typos much more common than a desktop or laptop equipped with a "hardware" keyboard. Making sure you make entries in the "correct" fields in a data entry mask also takes a lot more work. Uniserv autocompletion makes sure your customer gets their address right even if they make spelling mistakes or use different abbreviations. This improves the customer experience especially with smartphones.
The faster and easier the registration and checkout is for the customer, the higher the probability that the purchase will actually be completed. In contrast, address forms that are unclear and not typical for the country put customers off and lead to the order being abandoned. Instead of painstakingly entering the address into different fields, the customer can opt to search for it. This is as formatfree, interruption-free and error-tolerant as they are used to from the search engines they know. With autocompletion, the customer's digital journey is completed much more quickly.
We recommend that the single-line entry mask familiar from search engines be placed as a separate dialogue step before the actual entry mask with a corresponding note. If this does not suit your application, you also have the option of offering autocompletion to the user as support when entering the fields in the entry mask.
Your benefits of address search in real time.

The suggestions for choice during the input process avoid typing errors. This way, the customer can be sure that their address has been entered correctly. The accelerated ordering process reduces the bounce rate and ensures that your database contains dependable data. You save time and money that you would otherwise have to spend on corrections, support, failed deliveries and returns.

Fewer typing errors thanks to error tolerance and automatic address selection and completion.
Faster and more convenient address entry.
Shorter completion times for registration or order transactions.
Increased conversion rate through user-friendly input.
Improved user experience & increased customer satisfaction.
Reduced support costs through quality assured data.
Fewer returns and failed deliveries.
Perfect - especially for mobile devices.