Address validation.worldwide.
Check & correct international address data of your business partners easily, quickly and flexibly.

Correct postal addresses are needed to ensure that letters, goods or freight are delivered correctly. They are also a prerequisite for area analyses, branch planning, successful marketing campaigns or also for a more precise duplicate search. With Uniserv address validation, you validate your postal addresses worldwide: automatically, quickly and flexibly.
Highest hit accuracy.
High-quality reference data.
Autocompletion in real time.
Simply optimal data quality.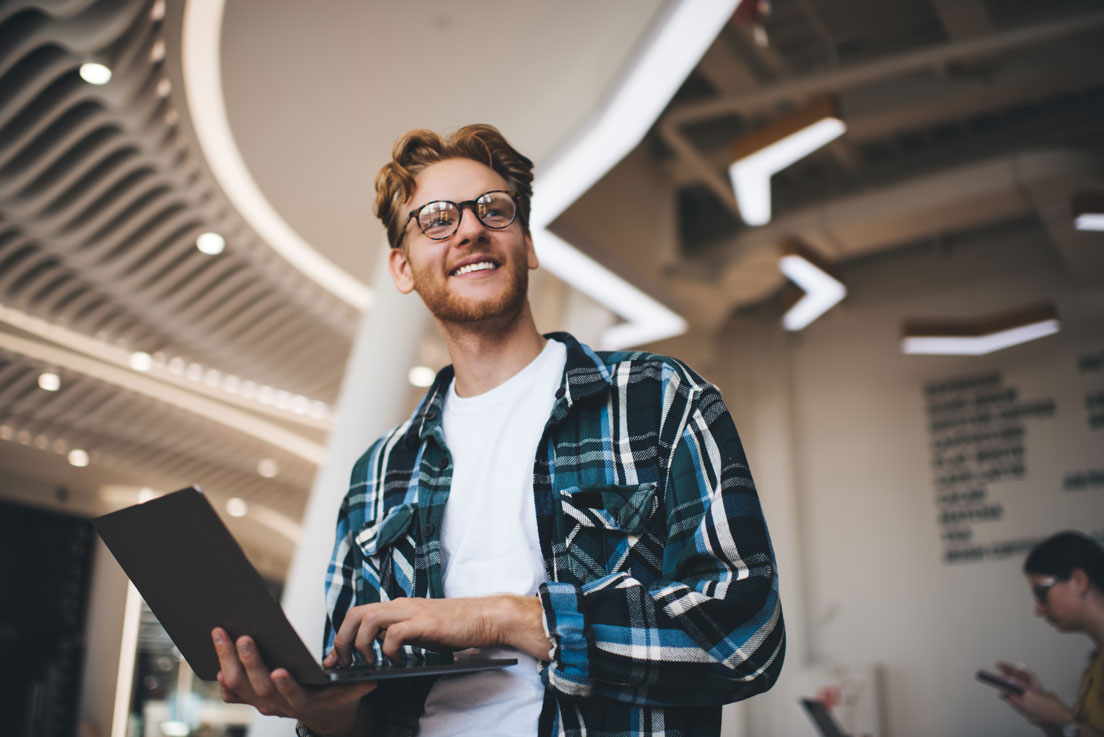 Optimal customer data with our
postal address validation
Quick Facts about our #1 Data Quality bestseller:
Verification, correction and enrichment of postal addresses
Directly on entry or across entire address databases
Worldwide availability inclusive a wide variety of fonts and languages
Extensive reference databases that are continuously updated
Simple and fast integration into classic as well as 'headless' architectures
Check it out & try our address validation
Test and discover our Data Quality Services from the cloud in Uniserv CONNECT free of charge and without obligation. Interactively check address, contact, company and bank data. What to expect:
100 free requests. Test all services extensively & free of charge.
API documentation. All integration & interface details.
Discover & try out. Clear examples of different use cases.
Questions? Our experts are ready to help you.
This is what distinguishes our address validation
When is an address perfect?

What exactly does it actually take for the address quality to be good? Of course: the components of the address such as street, house number, postal code and city must be correct. But a good address is more than just correct. For example, it is complete: it is difficult to work with empty fields. It is also up-to-date: in Germany alone, 11 million people move house every year. Ideally, it should also be unambiguous, for example, to avoid multiple mailings. With the help of our address validation, you ensure perfect addresses and improve the quality of your data in the long term. How we do it:
correct
complete
actual
unique
International offer

Whether Germany, Europe or behind the South Seas left: With address validation from Uniserv, you validate your addresses around the globe. The detailed address matching, which is often accurate to the house number, ensures a high quality of your customer data.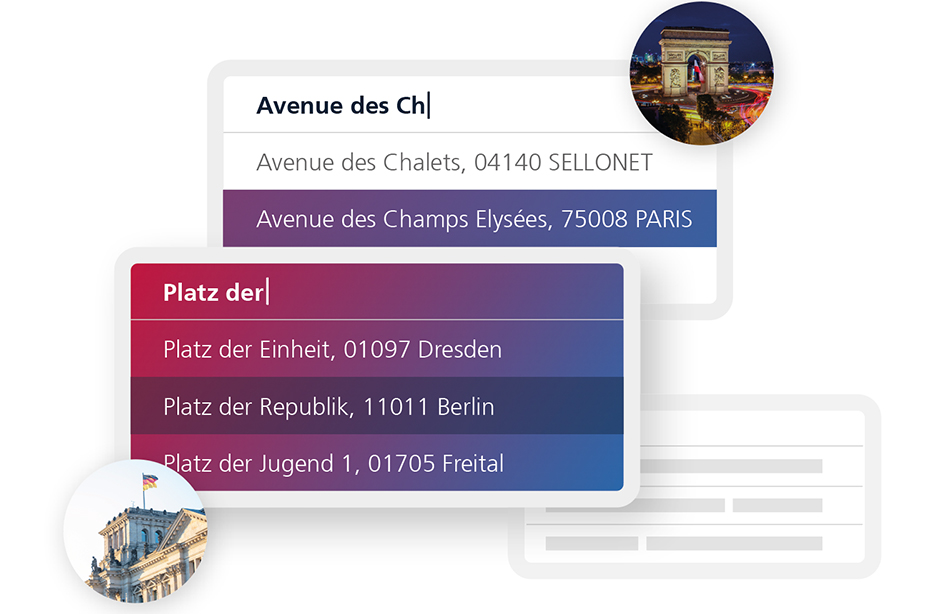 Rapid entry with autocompletion
No matter if you are looking for an optimal input support for your customers in the ordering process or if you want to optimize the efficiency of your power users when creating addresses. With Autocompletion, addresses can be conveniently entered within seconds. Thanks to the selection option, significantly fewer keystrokes are required per address after just a few characters.
Premium reference data for Germany
Our solution comes with all this knowledge and much more. For Germany, we even add one more on top. Our in-house research team meticulously refines our German reference data with dedication. We maintain close contact with data suppliers, cities and municipalities, so that in case of doubt we can make a statement about any address within the shortest possible time.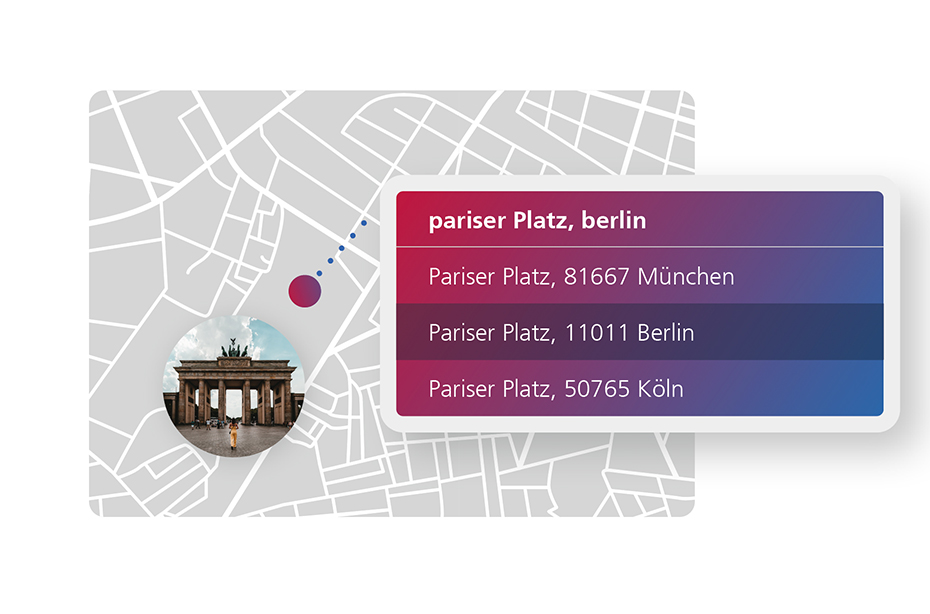 Unique knowledge base & precise search algorithms.

One thing we can promise: We know our way around addresses, in fact we have gathered experience in this topic for more than 50 years. What format should an address have in the Netherlands? We know. Whether the address has to look exactly the same in Cyrillic as it does in Arabic characters? We will gladly explain. Whether exactly this house number already exists in Germany in this street in that new development area? We answer with a left.
Address data age. Every day. Every year.
With our postal address validation, we offer you the optimal tool to maintain and improve the quality of your addresses worldwide. And that in the best possible quality thanks to our own reference data team. In addition to address validation and auto-completion, we also offer other options:
Standardization of your customer data through analysis and formatting of name elements
Flexible enrichment of geographic data, micro-marketing data as well as your own company data
Regular comparison of your addresses against the relocation database of Deutsche Post Adress
FAQs
Address validation means checking postal addresses for correctness and accuracy. Clean data is so important because flawless, high-quality data is a prerequisite for reaching your customers. Since addresses enter your company and the system in many ways, spelling errors or misprints can easily creep into the system and are subsequently transferred to the database without being checked. Wrong addresses or formatting errors are the result. However, a clean database is the prerequisite for ensuring that letters, goods, shipments or freight are delivered correctly.
In order to check the quality of your data and make corrections if necessary, Uniserv address validation compares your address data with our reference data. Important for a good validation result are therefore, on the one hand, high-quality reference data and, on the other hand, efficient search and matching technologies. And it is precisely in these two areas that the core competences of Uniserv lie. In this way, we achieve a very high hit accuracy and topicality and reduce the manual postprocessing effort to a minimum.
Autocompletion supports the user when entering addresses. When entering the first characters, a selection of possible results is displayed directly. The user can select from these and does not have to enter all the data himself. Ideally, the selection is combined directly with the address validation. Depending on what you want to optimize your system for, there are different ways to integrate autocompletion, e.g. as a single-line user input or on a field basis.
Quality is not an absolute. In the end, your data must be so good that it supports your business processes optimally. In order to obtain an overview of the current quality of your customer data, Uniserv offers a solution which supports you with the Data Assessment. Here you can not only see in a snapshot how your address data is currently doing. For example, you can also continuously monitor the progress of your cleansing and optimization measures with the address check.
Do you have a large address database and various construction sites regarding quality? Don't be put off by the complexity of the issues. Start at one point and begin with initial address checks and cleansing processes. You will see that the benefits for your business processes will quickly become apparent. Extending the measures later and expanding them to other subject areas and address pools is no problem at all. And if you are wondering where you have the greatest potential for improvement in your data records or would like to identify this potential, we will be happy to support you, for example, with our Smart Data Check.
You might also be interested in: