Accurate duplicate check.
Clearly identify & clean up duplicate customer data. For a clean customer data set.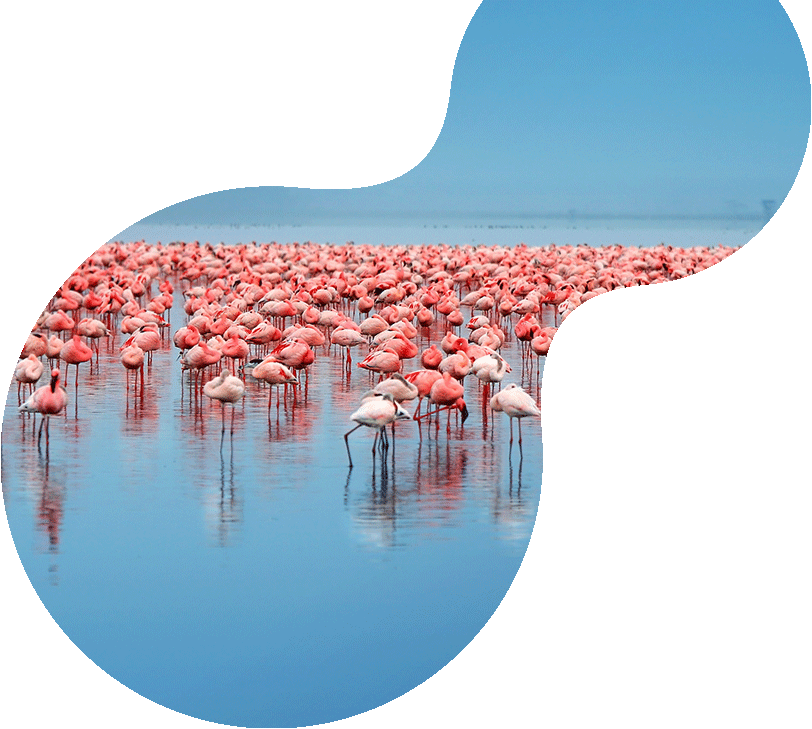 Duplicate records occur frequently and are unfortunately often not so easy to recognize. Because: not all duplicates are completely alike. Some customer records are only very similar, but there is no hundred percent match. This often makes it difficult to identify duplicates. Identifying these similarities within your business partner data is the task of Uniserv identity. Our smart algorithm searches for, compares and identifies duplicates within your databases - based on the criteria defined by you.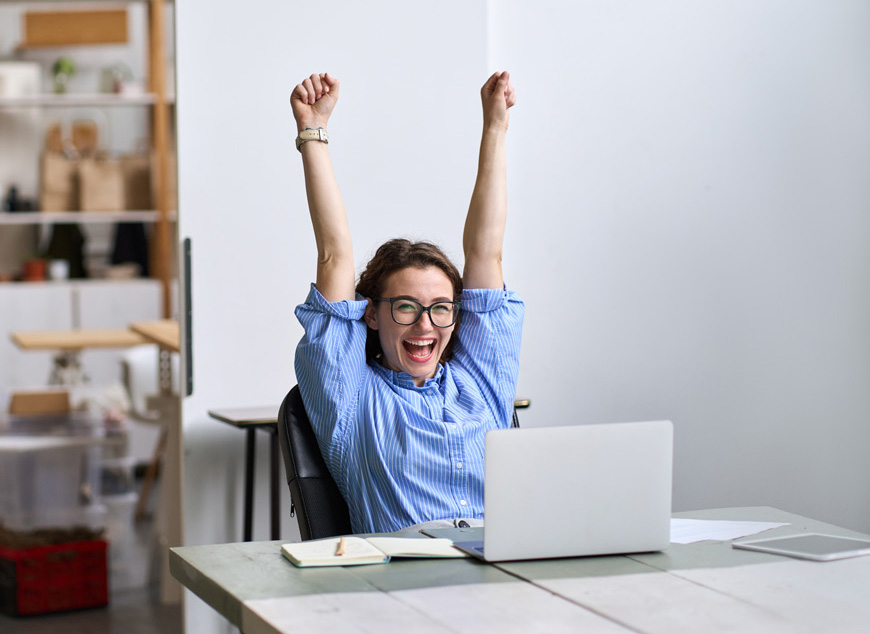 Get the most out of your data with our duplicate check!
Quickly search data sets and find specific duplicates.
Effortless comparison of international data records across different character sets and scripts.
Error-tolerant matching of similar records either directly at data creation or within entire datasets.
Efficient consolidation of data from all channels and sources across an organization.
Goodbye data redundancies, hello clean system!
Prevent redundant data records with our duplicate check.

Our duplicate check ensures that there are no redundancies in the system. This allows you to clearly identify data from a wide variety of sources: customers, suppliers, prospects, patients or trade fair visitors. We are particularly proud of our extensive internal knowledge databases with:

Country-specific rule and term tables.
Language-area-specific phonetics.
Unicode-compatible matching technology.
Address-specific fuzzy logic.
Individually configurable matching.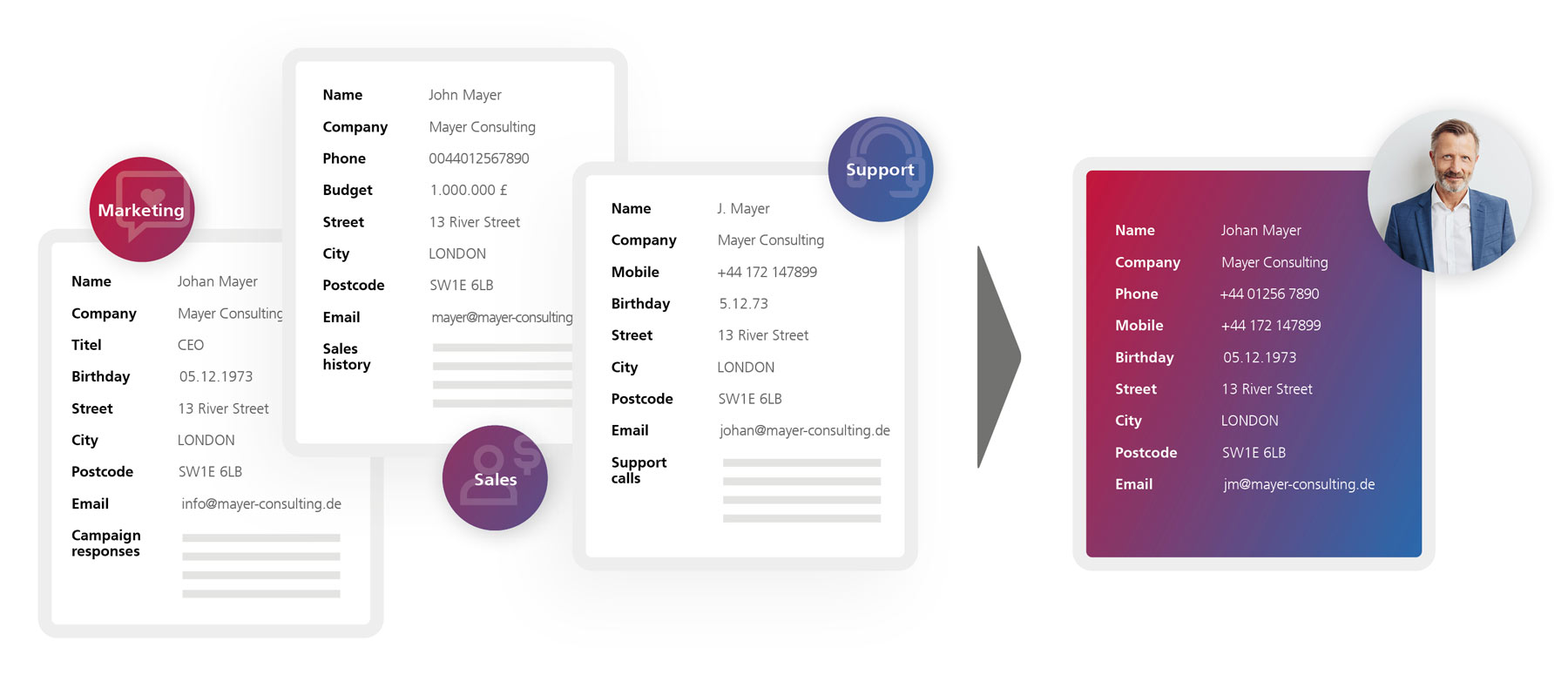 Despite hearing, spelling or transcription errors such as nicknames, abbreviations and spellings in different scripts (Arabic, Chinese, Greek, Cyrillic, etc.), you can unerringly and reliably find duplicates in your systems or prevent their creation. Thanks to flexible integration, the identification of business partner data succeeds both in real time (single record) and in mass processing. The duplicate check can be used both on premises and as a service via our data center (Data Processing Services).
It gets even better!
Our duplicate check can do more than prevent data redundancy!

Of course, matching and identification do not only work within your own database(s). For example, integrate external lists into your system or match your data against third-party lists (e.g. the Robinson list or relocation database). With our sanctions list check, you also automatically match against single or multiple sanctions lists.
We are the experts in duplicate matching and duplicate cleansing.

These are our strengths:
Identifying is one of our core competencies. Specially developed and continuously optimized algorithms guarantee a unique matching quality.
Precise and extensive configuration of the software with the help of qualified consultants.
High-performance processing of large data volumes thanks to scalable architecture.
Identification and assignment of data records both in real time and in bulk processing.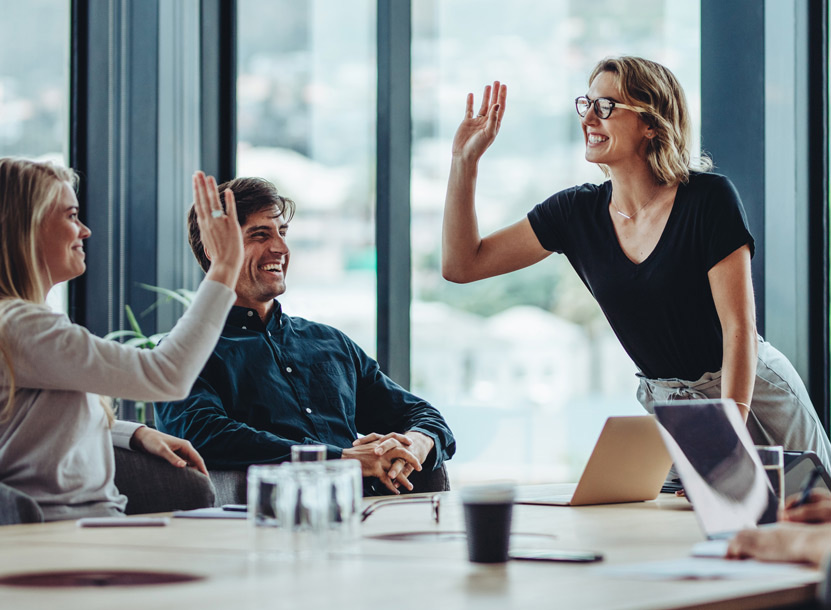 Optimized processes thanks to consolidated data.
The Golden Record as the basis for a 360-degree view of the customer.

Duplicate-free databases form the basis for optimizing your processes. The allocation and consolidation of customer information across all channels also enables a 360-degree customer view. Both are important prerequisites for the success of your business. Therefore, when identifying duplicate records, the goal is not always to clean them up. In some circumstances, it may be necessary to deliberately have multiple customer records across different systems. In this case, it is important not to lose track of all the available individual customer information. Our identification and matching technologies therefore form the basis for the Uniserv Customer Data Hub. With the Customer Data Hub, you can extract your customer master data from a wide variety of data sources and consolidate it in the Hub. In this way, unique customer master data records are provided across the entire company - the Golden Records. This means that accurate and consistent customer data is available for further use.

Identify duplicates in SAP S4/HANA®
Once the migration to SAP S/4HANA has been completed, a lot has already been invested in data quality as part of Customer Vendor Integration (CVI). It's a shame if you gradually destroy this investment and bring duplicates back into the system. In order to keep the data quality high in the long term, a reliable identity solution is required for central business transactions such as new creation or changes or fuzzy searches.
In the business white paper 'Identify duplicates in SAP S/4HANA quickly and efficiently', you can read how you can keep your data quality high in the long term by preventing double or multiple existing business partners in an error-tolerant manner.
FAQs
Are you missing important information for an efficient and targeted customer approach? You cannot clearly identify which business partners are trustworthy? Customers are not recorded only once in your systems? Customer service and call centers cannot immediately determine who they are talking to? You don't trust the analysis results of your customer data or don't get the information you need? Automated processes are getting bogged down? Duplicate customer data or a lack of consolidation of multiple data sources are often the cause here.
The applications around the identification of duplicate data sets are manifold. As a method in data quality management, for example, it has long been used in setting up data warehouses. Or in analytical CRM when setting up a single view of the customer. Identity Resolution is also nothing new in direct marketing, where it ensures smooth processes by eliminating duplicates. But also in the consolidation of address databases, inventory cleansing, external cleansing, list merging, cluster matching, negative matching (e.g. Robinson list), positive matching for data enrichment or in international matching for different typeset spaces - the correct handling of customer identity data is decisive for success here.
The identification and assignment of data records with Uniserv identity can be integrated into the business process in real time. But the Uniserv solution also shows its strengths in mass processing in a batch run, for example in the cleansing or merging of large data stocks. Thanks to the scalable architecture of the solution, very large numbers of data records can be processed with high performance in a short time. As a result, your other processes are supplied with the required data more quickly and efficiently. Despite the diverse application scenarios and extensive configuration, Uniserv identity is installed quickly thanks to standard software and is already profitable after a very short time. No complex project is necessary for the use of Uniserv identity. Simply install Plug & Play and off you go!
With Uniserv identity, we offer an out-of-the-box total solution that immediately delivers added value - with a fast ROI. Because identification & matching are our core competencies. Specially developed and continuously optimized algorithms and a wide range of configuration options guarantee a unique matching quality. We do not provide you with long selection lists, but with precise matches. In addition, our experienced consultants support you in customizing with specialist know-how and best-practice knowledge, if required. We offer flexible deployment on premise as locally installed software solutions at your premises, or we can handle the duplicate cleansing in our in-house data center.
You might also be interested in: